A Tadpole & Guppy's Lemonade Day Diary
We've been following Homeschool Pool's Lemonade Day adventures with Guppy & Tadpole from goal setting to results & future plans and we just had to share their experience. It is the best diary of curriculum we have seen. Below our some excerpts from their blog – read the full blog post here. This is a great guide for teachers, parents and caring adults going through Lemonade Day for the first time – or for mulitple times! Thanks for sharing your story with us, Homeschool Pool! You can also follow Cool Blast Lemonade on facebook.
If you have a story to share, you can tweet, facebook or email us [mystory@lemonadeday.org] and we'll pin it to our story board. You also have just 2 weeks left to enter our Tell Your Story video contest like Guppy & Tadpole did here!
---
Day 1-3: Lemonade Day created a packet of materials that are perfect for home school economics.  It teaches home school children all about how to open and run a business.  For today we discussed what Lemonade Day was and started with Step 1 which focuses on setting goals. [Guppy] wrote her paragraph on "Why I want to own a business" and then drew a picture of what she thought her lemonade stand should look like [see paragraph and picture here].  The only real issue was when she priced her lemonade at $11.00.  Although we have not yet gotten there in the process I felt she was SO far off we should have a brief discussion about that and a reality check.
[Tadpole] has determined she wants to spend $8.00 on Nancy Drew and the Hidden Staircase by Carolyn Keene.  She wants to save $5.00 in her piggy bank but she does not really have a bigger item in mind she is saving for (perfectly acceptable).  She wants to donate $3.00 to Meals on Wheels.  Therefore, she has to make a profit of $16.00 in order to meet her goals.
For Guppy we simplified it a little bit.  We did not go into many terms aside from entrepreneur which she had fun saying. She decided she wanted to give $5.00 to the animal rescue where we got our puppy, Strauss, Paws of Texas. She said that Strauss will really appreciate that and maybe the dogs at the shelter could have more treats.
Day 4-5: We started the next step, the business plan. We decided on a pool theme. Tadpole wrote down words related to pools, summer, lemonade, sun, fun, etc. This was then used to inspire some business names. She slowly eliminated them until we reached 6.  We then discussed focus groups and she thought it would be a good idea to poll people for their opinion. So, we posted on Facebook … and finalized the business name.
In addition to discussing business plan we also did some customer service role play to determine a refund policy. Tadpole and Guppy were on opposite ends on the refund policy so we role played for awhile to illustrate the pros and cons of each. They came up with a solid compromise and then role played enforcing their policy.  We will add this to the business plan.
Day 6: We discussed what a budget is and what it does.  We discussed and reviewed the terms "expense", "revenue" and "profit".  We added new material of "capital equipment" and "consumable". We then talked about where we would get the items. Tadpole and Guppy decided to ask to borrow several of the capital equipment to reduce costs. We made a final list of all the items (or possible items) we would need to purchase.  We will go today to price several of the items and compare before making a final determination.
We did do an approximate budget and then an estimate on revenues.  Tadpole did the calculation to determine her estimated profit. She compared that to her written goals and determined she was being reasonable and so far is on track. We also discussed her budget if she opens her lemonade stand the following week also and which items may not need to be included again and what would happen if she has leftovers from the previous week. She very quickly made the connection that the more she can save, the higher her profit will be. We also discussed reinvesting in her business and the possibility of buying some of the capital equipment at a later date in order to stop requiring borrowing.
Mom came over this afternoon and we did some role play dealing with difficult customers and possible problems that might come up.  We also did some work on counting back change.
Day 7-8:  We went on a little excursion to a couple stores to do some comparison shopping. We had several discussion during this including how something seems less expensive but in fact is not. The math may have been a bit beyond Guppy but Tadpole got it very easily. Some she was unable to do in her head but she flawlessly gave me the equations which was the real goal. Good for her.
I popped everything into a spreadsheet which she helped with. Both girls looked at everything side by side and made some preliminary decisions as to cup size and quantities for everything to solidify the budget.
We have park day on Friday and plan on doing a blind taste test there.
Day 9: We worked on ensuring Tadpole and Guppy had a clear understanding of loans including principal and interest and the difference between a loan and an investment.  We did several calculations and exercises using both loan and investment examples. Tadpole then worked on typing the business plan for the business.  We are using the format as recommended by the SBA. We did:
Market Analysis – brief paragraph about the research we did
Company Description – an in depth description of the business and what sets it apart.
Organization and Management – We did owner biographies outlining some of the experience both Tadpole and Guppy have and how that translates to a potentially successful business.  Tadpole especially had some useful skills from volunteer work she has done.  Also in this section Tadpole outlined her advisers and investors (us) and the possibility of hiring an employee for sales (her little brother/Minnow).
All the research is complete, this is just writing it down in a formal document.  Not only is this a great way to recap all the things we have covered but it is also good language arts/writing and typing/word processing practice.
Day 10-11: Lots of advertising. We discussed signs, website, fliers, word of mouth and social networking. They worked on making their signs, setting up their website:  http://sites.lemonadeday.org/coolblast, and made a tip jar using an old coffee can & scrapbooking paper. We circled through the neighborhood and surrounding areas to post fliers about the launch of the business. Finally, there was a trip to Costco to get many of the supplies that will be needed to make the lemonade. Not only were the supplies purchased but they were entered into the log of expenses for the financials.
Day 12: Today we added to the market analysis portion of the business plan.  LemonadeDay.org now has a map showing all the lemonade stands that are participating.  So we looked at the ones close by and analyzed their direct competition.  We analyzed how sales might be lost due to location but the additional advantages based on grass-roots advertising and donating a portion to charity.  We also discussed how starting small was an intentional move to control growth and work out any bugs in the first year.
Day 13: We are running through mock scenarios for Lemonade Day and practicing the setup and break down of the business.  We will go through the neighborhoods again to replace any torn fliers or to add to any where we missed.  We will also have our yard sign completed today to direct drivers to the lemonade stand.
We will sign our investor agreement today and add that to the business plan.  The business plan is complete and they did a great job with it. Check out their Business Plan here.
Day 14:  Making lemonade and refrigerating the day before.  Everything is done.
Day 15: Lemonade Day! They actually sold out of lemonade just shy of their end time so they packed everything up and cleaned up including removing all the neighborhood signs. See the day's video here.
Day 16: Today we concentrated a lot on Lemonade Day results.  The first thing that happened was going to the bank to open up an account for the owners.  We went to our bank because it was going to be the most convenient location.  However, we discovered our bank requires a $100 minimum deposit to open and they had slightly less than that.  So, we decided to go to LemonadeDay.org's website to see who sponsored the event.  We looked at Capitol One and Amegy because we have branches close to us.
Capitol One requires a $25 initial deposit and is a free account.
Amegy requires a $10 initial deposit and is also free.
Next, we discussed the business plan and how a business plan is a working document that should be revised as needed to reflect the current information and state of the business. We then did just that. You can see a sample of the revised business plan here:
    Executive Summary – We revised the executive summary with new financial information.
    Market Analysis – this was revised quite a bit because there was additional information.  We analyzed the direct competition for Lemonade Day and what we saw when visiting the competitors' sites.  We discussed future projections for the market through the summer and how other neighborhood stands may or may not affect sales.  We finally added information based on actual data to support some of the earlier projections
    Marketing and sales – Added plans to create a permanent website, Facebook and Twitter page
    Funding request – modified slightly to reflect new negotiated deal
    Financial projections – We discussed how the projections that exist were incorrect and more favorable than expected.  We revised the projections to show immediate profit.  We also worked on the projected budget and showed that the investor should be paid in full by the end of June of this year.
We then discussed some of the capital equipment:
    Folding table – borrowed from Grandma, going to continue to borrow until they have enough money to buy their own.
    Decorations – borrowed from a friend but it must be returned.  Discussed purchasing own decorations.  Discussed how there were too many decorations and it took too long to set up.  They will reduce the number of decorations and decide on fewer but ones that make an impact.  They will purchase their own uniforms.  Also discussed better ways to affix the decorations.  The main sign fell over a few times so that needs to be fixed with the ability to be secured.
    Lemonade dispenser – borrowed from investors and will continue for awhile.
    Ice chest – borrowed from Grandma and will continue until they can purchase another one
We also discussed thank you notes for key people who helped and business letters to accompany the donation checks.
We entered the Tell Your Story contest!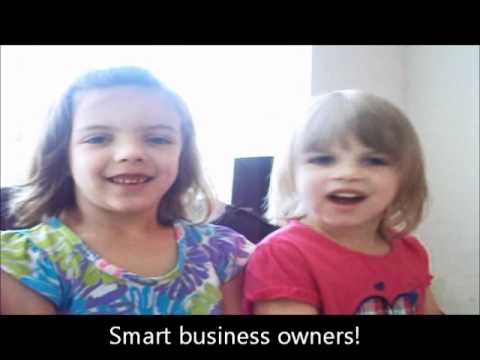 Leave a Reply
You must be logged in to post a comment.